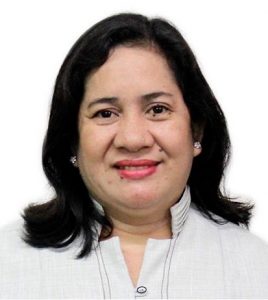 We at Cuneta Elementary School welcomes you and your family to the 2017-2018 School Year. We are committed to doing all we can to make this school year a successful experience for every student.  We firmly believe that a home/school partnership is necessary for the success of all of our students.  Learning is not an easy process! It involves sharing ideas, making mistakes, and attempting new experiences.  Learning involves hard work by everyone, the teacher, the parent, the principal, but most importantly the student. 
        At Cuneta E. S., we value and challenge each student and provide opportunities for success.  Instruction is based on the Common Core Standards.  We also focus on the district's Lifelong Learning Standards, which include equipping our students to be collaborative workers, self-directed learners, participants in society, information processors, effective communicators, and complex thinkers.  Our students' success is the center of all we do.
          Research and experience shows us that a parent's/guardian's involvement in a child's education is directly related to his/her success in school.  To maximize your child's success, emphasize the importance of education through the following:
Ensure that your child is at school on time each day.

Attend parent/teacher conferences and school events.

Monitor your child's homework daily.

Expect and support positive behavior at school.

Read with your child or encourage your child to read daily.
          In addition, there are numerous volunteer opportunities in which we welcome you to become involved.  Volunteers make a tremendous positive impact and enrich our educational program.  More information regarding volunteering at Rose can be found in this handbook.  Your child's teacher and our Parent Teacher Organization will also provide information.  Please consider supporting our school in this way.
          I look forward to partnering with you to make this an exciting and successful year for our students.  Thank you in advance for your support and commitment.  
Sincerely,
Genalin S. Ong
OIC -Principal

Lion's Club Funded School Wide Feeding Program and Gift Giving by: Acrima S. Labay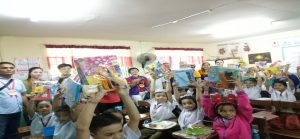 On December 19, 2017, Manila Friendship Lions' Club visited Cuneta Elementary School with gifts and humongous food supply that would feed 628 CES pupils which is the total population that covers morning and afternoon shifts. This  The Club members discusses the benefits of the schoolwide feeding program and laid out realistic expectations regarding the partnership. Cuneta Elementary School's current state was also discussed to analyze further beneficial interventions in the future.
CES Monthly Perfect Attendance Award Shows Positive Result by: Acrima S. Labay
'Perfect Attendance Awarding Ceremony' is held every last day of each month. Pupils with perfect attendace for each month will be awarded prizes and a certificate by the principal. The ceremony aims to motivate CES pupils to avoid absenteeism through the use of rewards and incentives in front of the school.
Launching of SBFP Sponsored by Lion's Club  by: Acrima S. Labay
Manila Friendship Lion's club visited Cuneta Elementary School on November 22, 2017 for the launching of Feeding Program sponsored by their association. The event started 9:00 am where the parents of Feeding Program beneficiaries gathered for an orientation on the purpose and goals of School-Based Feeding Program. As an institution of learning, Cuneta Elementary School also addresses the nutritional health of its pupils by encouraging concerned stakeholders. Manila Friendship Lion's Club fortunately sees that their vision and mission in helping those in need are in line with the schools' goals.
2017 EPP - TLE TECHNOLYMPICS  by: Elrick Cacayurin
Cuneta Elementary School bags numerous award during the recent 2017 EPP - TLE Technolympics held at Timoteo Paez Elementary School (Division Level) and Las Piñas City (Regional Level) respectively.
 CES Teachers Enhances their Skills on Semestral INSET by: Acrima S. Labay
 In line with DepEd Order No. 25, s. 2017, Cuneta Elementary School conducts a Semestral Break In-Service Training to help CES teachers in equipping them with necessary skills needed for teaching 21st Century Learners. 
 CES Celebrates World Teacher's Day by: Acrima S. Labay
  "One book, one pen, one child, and one teacher, can change the world". Teaching is not just a service, profession or a job. It is a pillar of the society. Every teacher shall manifest genuine enthusiasm and pride in teaching as a noble calling. The influence of a teacher can never be erased and it lasts for a lifetime. In accordance with the Synchronized Programs, Projects and Activities of DepEd Memorandum No. 137, s 2017, all schools shall actively participate in the 2017 National Teachers' Month and National Teachers' Day/World Teachers' Day Celebrations from September 5 to October 5, 2017 with the theme "Gurong Pilipino Kaakbay sa Progreso". 
 CES Holds Training for Dish Washing Liquid Making by: Acrima S. Labay
Parents plays a huge role in pupils' education. Children learn all their first steps from  their parents. From walking to producing familiar words, parents are there to guide them. In order to bring parents' closer to the school community, Cuneta Elementary School came up with numerous proactive activities that aims to close the gap between school and pupils' home. With partnership with the GPTA Officers, CES conducted a training on dish washing liquid making on September 5, 2017. This project aims to create a livelihood program that will benefit CES pupils.
 CES holds PTA General Assembly by: Eufrocina Melody D. Cortez
Cuneta Elementary School held its General Parent's Teachers Association assembly last August 19, 2017, 8:00 am at the multipurpose rooms.
 CES Launches Project ZeDro by: Acrima S. Labay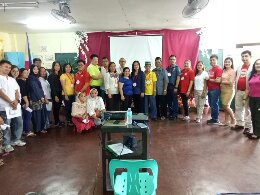 "Every child deserves a champion" said Rita Pierson. This is the driving force behind the conception of Project ZeDro (Zero-Dropouts) which hopes to address the dropout rate of Cuneta Elementary School. Project ZeDro was launch on July 7, 2017 with the facilitation of Focal Person, Lorena A. Aliperio and Assistant Focal Person John D. Liban through the support of current school head, Mrs. Genalin S. Ong. Gathering a variety of stakeholders in the Multi-Purpose room of the school, C.E.S presented a project that will save pupils from leaving the school with the whole community as a champion.
 CES Students Celebrate the 119thAnniversary of the Declaration of Independence Day  by: Acrima S. Labay
In commemoration with the 119th Independence Day with the theme "Kalayaan 2017: Pagbabagong Sama-samang Balikatin", CES pupils enjoyed a monthlong celebration of fun and stimulating activities that demonstrates their patriotism.  Headed by the Araling Panlipunan Coordinator, Mr.  Jonas Oja and AP Teacher, Ms. Acrima Labay with the support of their current School Head, Genalin S.  Ong, an array of activities was prepared to give pupils opportunities to express their love of country in different forms. The activities consisted of a unified Flag Ceremony, Poster and Slogan Making Contest, Quiz Bee and a Culminating activity. The event was held solely in Cuneta Elementary School.
 CES Students Enhances their Writing Skills on a Workshop  by: Acrima S. Labay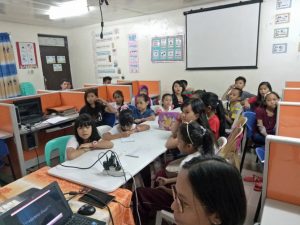 It's none of their business that you have to learn to write. Let them think you were born that way – Ernest Hemingway. This is true for CES students who had been chosen to partake on the Journalism Training. Although they have shown potential in writing, they still have a long way to go for them to truly craft their writing styles. It was for this reason that the School Head, Mrs. Genalin S. Ong together with CES teachers conducted the Young Journalist Training on June 24, 2017 in order for the students to enhance their writing skills in preparation for the upcoming Journalism Competition. The training started at 8:00 o'clock am and ended at 12:00 o'clock pm.

 CES Teachers Engage in Summer INSET   by: Acrima S. Labay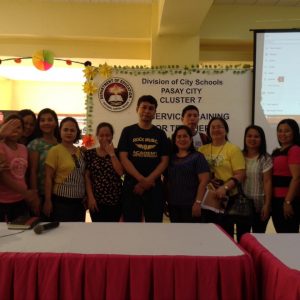 "Anyone who stops learning is old, whether at twenty or eighty. Anyone who keeps learning stays young." said Henry Ford. This is an irrefutable truth that the teachers in Cuneta Elementary School live by. Their belief in staying at the top of their teaching game shined brightly when they participated in the In-Service Training Program with the theme "Enhancing Teachers' Competencies: Meeting the Needs of 21st Century Learners" held in Cuneta Elementary School ICT room and a two-day seminar joined with other schools in Pasay City Cluster 7-South District. Headed by the Event Chairperson Mr. Elrick Cacayurin and Co-Chairperson Mrs. Leah Bumanlag with the support of their current Principal, Mrs Genalin S. Ong, CES teachers actively particpated in the five-day event from May 29 to June 2, 2017.

 CES Participates in Brigada Eskwela 2017  by: Acrima S. Labay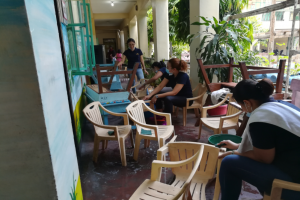 As one saying, 'where there is unity there is always victory'. This short but powerful line may sum up CES successful implementation of DepEd Brigada Eskwela for the SY 2017-2018 held last May 15 to 22, 2017 with the theme "Isang DepEd Isang Pamayanan, Isang Bayanihan Para sa Handa at Ligtas na Paaralan".


| | |
| --- | --- |
| November 1 | All Saints Day (Special Non-working Holiday) |
| November 2 | Resumption of Class |
| November 30 | Bonifacio Day (regular holiday) |
| December 22 | Start of Christmas Break |
| January 3 | Resumption of Classes |
| January 27 | Early Registration for Kindergarten to Grade 12 |

Archives